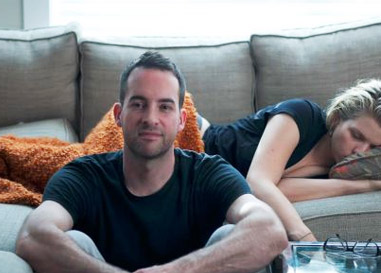 Ask most actors and they will tell you that  improvisation is the equivalent of a high wire act performed without a net.  By not being able to rely on a script, it is the actor's skills that will ultimately determine whether they make it to the other side.  Up for the challenge, a group of Vancouver 30-somethings have taken on this death-defying metaphor, with Afterplay, an improvised feature-length movie.
Afterparty tells the story of Charlie who, on the night of his brother's wedding, gathers his old high-school gang for a post-reception party to help him forget about his own marriage.  Over the course of the night Charlie must decide if he gives into his husband's ultimatum to return home, while the rest of the group discovers that revisiting the past doesn't always prepare you for the future.
Proving once again that art does indeed imitate life, the story for Afterparty comes partly from gay actor Graham Coffeng's real-life story, having moved to Vancouver in 2011 after separating from his husband.  Like the character Charlie he plays, Coffeng was housesitting for his brother when he first arrived out west and recognized the empty house as an opportunity to make a movie.
"The film was inspired by some true life events, but a lot of 'what ifs' came into play," says Coffeng.  "I definitely had a strong emotional force to draw on and I was able to draw on my own experiences to create a scenario of why the character of Charlie was coming to the end of his relationship."
"The house came first," laughs director Michelle Ouellet.  "We had this fabulous location and this reunion film came from the wonderful house that Graham was staying in."