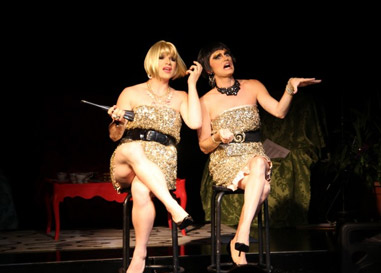 There is no better time than now to make your New Year's resolution to take in some live performing arts in 2014 as we present our January guide to what's happening on Vancouver stages.
Part of the 2014 PuSh International Performing Arts Festival, this year's Club PuSh includes Ivan Coyote and Rae Spoon exploring their failed attempts to fit into gender binary in Gender Failure (16 & 17 Jan) and Isolde N. Barron and Peach Cobblah unearth the history of the drag movement in Vancouver with Tucked & Plucked: Vancouver's Drag Herstory on Stage (24 Jan).
Metro Theatre presents its annual family-friendly holiday pantomime, Jack and the Beanstock (closes 4 Jan).
It's a Supercalifragilisticexpialidocious holiday season as Mary Poppins flies in for a visit with the Banks' family in this jolly holiday treat (closes 5 Jan).
James Bond has provided not only some of film's most thrilling moments in his fifty year screen history, but some of the most thrilling music, too.  The Vancouver Symphony Orchestra presents Fifty Years of James Bond featuring the most memorable songs and music from past and more current James Bond films. (10 & 11 Jan).
The inaugural Italian Film Festival will showcase five new films from Italy and five films from Italy's historical repertoire of cinema (10 – 16 Jan).