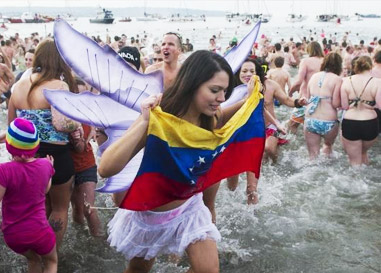 Get ready to plunge in to the cold waters at the English Bay (or just watch on the sidelines if you're too scared to, like me) for the Polar Bear Swim. The local tradition returns for another year, on January 1st, to help kick off the new year. The plunge is scheduled for 2:30pm, and participants and spectators are encouraged to bring a non-perishable food or cash donation for the Greater Vancouver Food Bank.
If you wish to participate in the polar bear swim, you'll be required to sign up prior to the event. Registration takes place at the English Bay Bathhouse between 12:30 p.m. and 2:30 p.m on January 1st - and good news - it's free!
Here are some swim tips from the City of Vancouver to help keep you safe (and warm!):
If you have a heart problem - just watch!
Children must swim and stay with an adult
Please leave your dog at home
Do not drink - alcohol does not warm you up - it accelerates hypothermia.
Do not stay in the water longer than 15 minutes. Body heat is lost 25 times faster in water than in air.
Do not remove your clothing until swim time. The swim will be started by a flag and siren.
Entrants in the 100 yard race - meet in the front line on the north side (Stanley Park side) of the enclosure.
First 3 swimmers to touch the marker buoy by the lifeguard boat - give your names to the lifeguard.
After you swim, pick up your commemorative button at the large polar bear or at the registration table.
Warm up with coffee or hot chocolate.