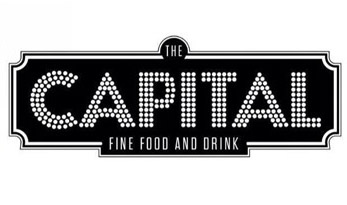 I recently had the chance to check out The Capital, one of the Davie Village's newest restaurants / bars. They describe themselves as "a social establishment bringing fine food & drink at an affordable price to the West End in Vancouver", and offer a much welcome, fun and unique atmosphere to our community. Cheap eats and affordable drinks make this a great establishment for a lunchtime meal or nighttime get together with friends.
I sat down and chatted with Dallas Hunt, the general manager, about the new restaurant.
1. Tell us a bit about the The Capital
The Capital is a pub style diner, and everything on the menu is $5.20 after tax. We try to offer foods from a variety of different areas and flavors and hope to appeal to everyone. We're a restaurant with a liquor primary section available.
2. Why did you decide to open a restaurant in the Davie Village?
My little brother is gay, actually, so I talked to him a lot beforehand and he brought me around a lot of places. The culture of this street is very positive and fun - everybody is always happy and friendly - and that's sort of the kind of personality that I like. The street is also very densely populated and it just made sense to me to want to open a restaurant here.
3. What is your ideal meal at The Capital?
It sound so stereotypical, but I usually start with the Jerk Chicken Wings (they're delicious), then I do the Chicken and Waffle Sandwich or Carbonara, then for dessert I do our donuts or fresh apple pie. The donuts are definitely my favorite thing.
4. What sets you apart from the other restaurants in the West End?
We have such a large variety of things on our menu, everything from southern food (Chicken and Waffle Sandwich), to a nasi goreng. We try to hit every aspect of the world, every continent, with our menu. Obviously, as well, our price sets us apart for what you're getting.
5. Do you have any upcoming events or features you'd like to let us know about?
We started doing something called "Shoutout Parties", so we're probably going to have 2 of those per month. The idea is that someone from any area or group in Vancouver can throw a party specifically targeted to that group of people. For example, coming up on the 22nd (November) we have the "Warehouse Shoutout", which is the restaurant I first started working at. We're inviting everyone who has ever been a regular, an employee, or management at The Warehouse on Granville to show them around our new restaurant and what it's all about.
We have another Shoutout Party on the 30th dedicated to people from Port Coquitlam, since we have someone in our company who is based there. We have about 70 people coming down from Port Coquitlam and it's going to be a great time!
In December we're going to do a Christmas ugly sweater dinner party and turkey dinner. We're trying to get all of the "orphans" of Vancouver (people without family here) to come visit and throw a traditional Christmas dinner. It'll be on Christmas day.
Check out The Capital for delicious food and a great time
Be sure to follow The Capital on Facebook and Twitter and check out their new location at 1178 Davie Street.