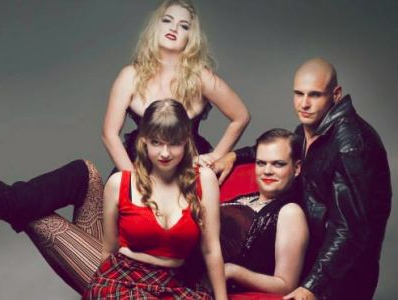 The Fighting Chance Productions presentation of The Rocky Horror Show may not be perfect, but it is a great deal of fun.
With the stage play now forty years old, the movie version only a couple years younger and with cult following The Rocky Horror Show has garnered over the years, it came as a bit of a surprise that so many Rocky Horror virgins were identified in the audience opening night and subsequently branded with a large "V" on their foreheads in red lipstick.
For those other virgins who are planning on taking in the show, it tells the story of Brad and Janet who stumble upon Dr. Frank N. Furter's castle looking for help after their car breaks down one stormy night.  The couple happens to have arrived on the same night the pansexual mad scientist unveils his newest creation, the well-built and well-endowed Rocky.  The ensuing hijinks include a number of sexual pairings, the re-murder of the Furter's former lover Eddie and the discovery that the castle is actually a spaceship which has brought Furter and his minions to earth from their home planet of Transsexual in the galaxy of Transylvania.