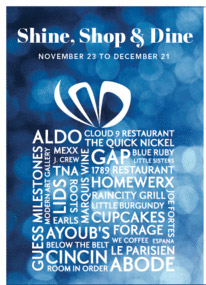 Here are our top gay news picks from November 10th to November 16th.
Gay Vancouver News
Davie Village News
Shine, Shop & Dine in Support of St. Paul's Hospital Foundation: In support of the St. Paul's Hospital Foundation, the West End BIA and Robson Street BA are joining forces to kick off the holiday season in style with Shine, Shop & Dine. Anchored by the St. Paul's Lights of Hope, hop aboard a free trolley at any of the 12 pick up locations (with some on Davie Street) on Saturdays, 4:30 to 9:30 pm from November 23 to December 21.
Vancouver installs cigarette recycling bins: Vancouver unveiled new cigarette-collecting receptacles, or "Butt Bins", as they're labelled, this month in an effort to keep Vancouver's streets clean and move the city closer to its Greenest City 2020 Action Plan goals.
Gay World News